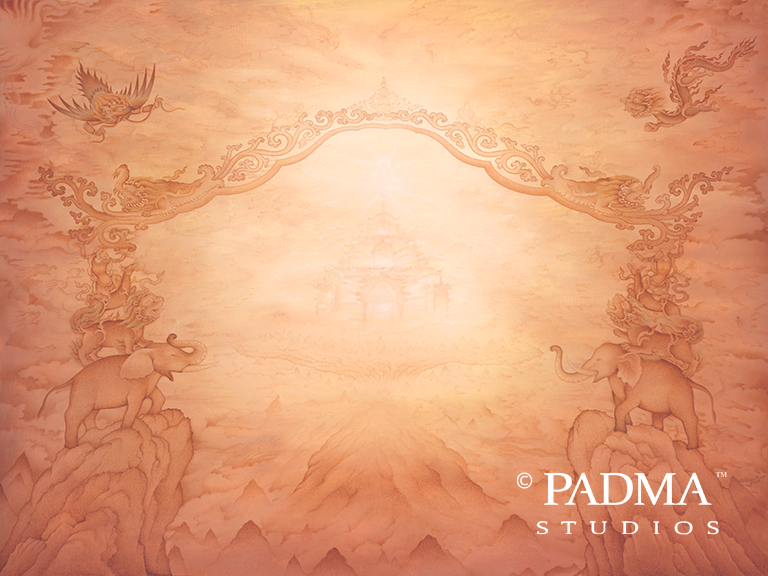 Gateway to Shangri-la
Reproduction gicleé print by Pema Namdol Thaye
Watercolor
Original size 25.5 x 39.5"
Completed 2007
In Tibetan mythology there are certain creatures believed to have special powers over the elements. They comprise: the Garuda and the Dragon; the Snow-lion and the elephant, and the Naga (Mermaid) and the mighty Makara.
The garuda and the dragon soar in the sky – holding domination over any harmful influence from this element and thereby protecting all beings from it. The Snow-lion and the elephant hold dominion over the earth element. The makara (lord of the sea) and the Naga adorn the mantle, signifying the water element and their power over this element.
Out of these power animals the land beings stand atop Mount Meru with the addition of the deer, which possesses its own unique qualities. Upon the pinnacle of these three animals stands the one who has attained the most precious rebirth – the human – who possesses the wisdom to overcome all obstacles and attain the ultimate reality of enlightenment. The human form is portrayed in a condensed form with diminutive stature, as this style represents colossal strength.
Even though the human form is the ultimate state, all these beings are interdependent. When combined they form an indestructible pillar, drawing strength from the abundance of the earth element upon which they stand. For they stand upon Mount Meru itself; the indestructible base required to support the strength and power of all these precious beings united. Each one supports another until the human holding aloft the mantle of the gateway into the mythical land of Shangri-la – the land of promise, peace, beauty and enlightenment – heralding its existence and guiding all beings to it.
Each being depicted is an amalgamation of all the four elements, miraculously forming such diversity of form as to be indescribable. Within each category of being there is in its possession a characteristic that is unique to it. The power animals are the embodiment of the diversity of all beings from each element. Further, the Naga (Mermaid) also represents supernatural celestial powers over the water element in addition to being guardians of precious treasures. The deer, being known to be have the capacity to hear the enlightened teachings, represents peace, speed, grace, gentleness and all herbivore animals.
Through these forces of power, strength, speed, might and wisdom, these beings combined have the ability to create a gateway into this secluded, mystical realm. The presence they have created is not only indestructible, but also magnetic, summoning other beings and empowering them with the ability to enter. In essence, they have created and become a portal in another dimension.
Shangri-La itself is represented by the celestial structure shimmering beyond the portal. An almost translucent form, as all beings become upon entering this place of wonder and peace.